Pink Shirt Day
Anti-Bullying Day is a day when people wear a pink shirt to symbolise a stand against bullying, an idea that originated in Canada. Pink Shirt Day started because two boys chose to do something about bullying rather than stand by and watch it happen. Now the movement is worldwide, educating and inspiring others to stand together and take action against violence and bullying.
Bullying is a major problem in our schools, workplaces, homes, and online, Pink Shirt Day aims to raise awareness of these issues, as well as raise funds to support programs that foster children's healthy self-esteem.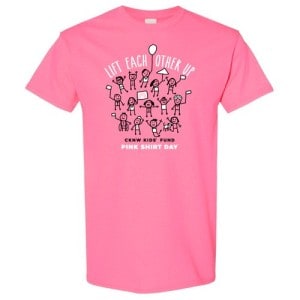 WHAT IS BULLYING?
Bullying is a form of aggression where there is a power imbalance; the person doing the bullying has power over the person being victimized. In additional to any physical trauma incurred, bullying can result in serious emotional problems, including anxiety, low self-esteem, or depression.
TYPES OF BULLYING
Physical bullying: using physical force or aggression against another person (e.g., hitting)
Verbal bullying: using words to verbally attack someone (e.g., name-calling)
Social/relational bullying: trying to hurt someone through excluding them, spreading rumours or ignoring them (e.g., gossiping)
Cyberbullying: using electronic media to threaten, embarrass, intimidate, or exclude someone, or to damage their reputation (e.g., sending threatening text messages).
How to Support Our Youth?
National Pink Shirt Day Awareness 
Indigenous Pink Shirt Day Awareness 
Saskatchewan Bullying Prevention