March 16, 2023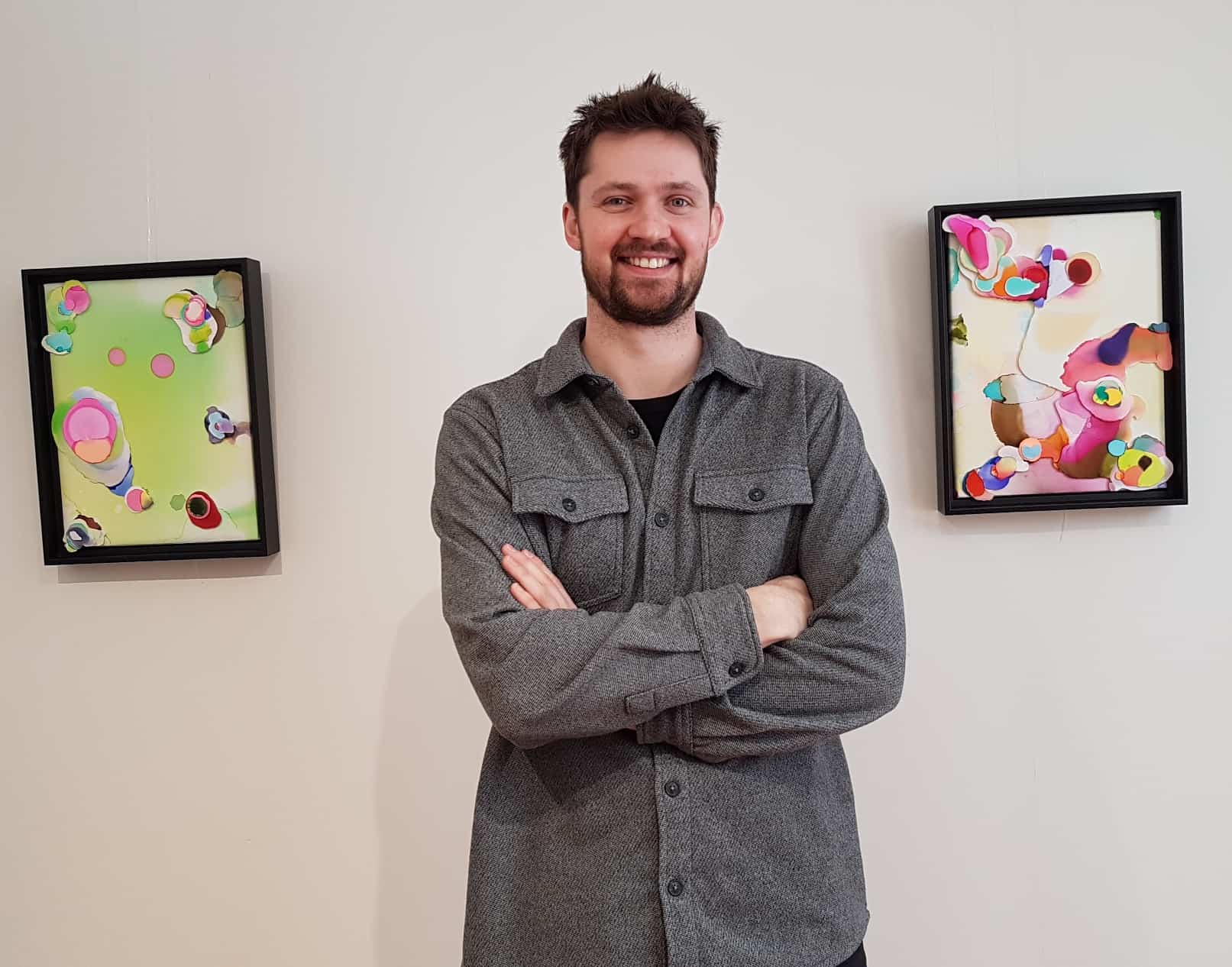 Written by Margot Weiner, Director of Development
Collage: 1) an artistic composition made of various materials (such as paper, cloth, or wood) glued on a surface cut pictures from magazines to make a collage 2) a creative work that resembles such a composition in incorporating various materials or elements
It took me a little while to find the faded yellow house located at the Forestry Farm! I was late to meet with Jordan Baraniecki at The Bunkhouse (located in the midst of the park) driving by the unpretentious building at least twice before finally stopping and parking.
Jordan welcomed me warmly and gave me a quick tour of the space, available to artists in Saskatoon looking for a place to perfect their works amidst other like-minded people. The walls of the historic rooms, their floors bearing the marks of many pairs of shoes over the years, were brilliant in the sun as it broke through the clouds. And proudly displayed on those white walls were the vivid splashes of colour that characterize Jordan's current work.
I had come to chat with Jordan after he donated a collage entitled "Sanctuary Space" to one of our fundraising events. I wanted to know what drove his creativity. I also wanted to know why he chose to support CMHA Saskatoon through the donation of his artwork.
Born and raised in Saskatoon, Jordan's Bachelors of Fine Art took him to three different universities across Canada: University of Saskatchewan, ACAD U and NSCAD U for his Bachelors of Fine Art. For his Masters, Emily Carr University was where he graduated in 2022.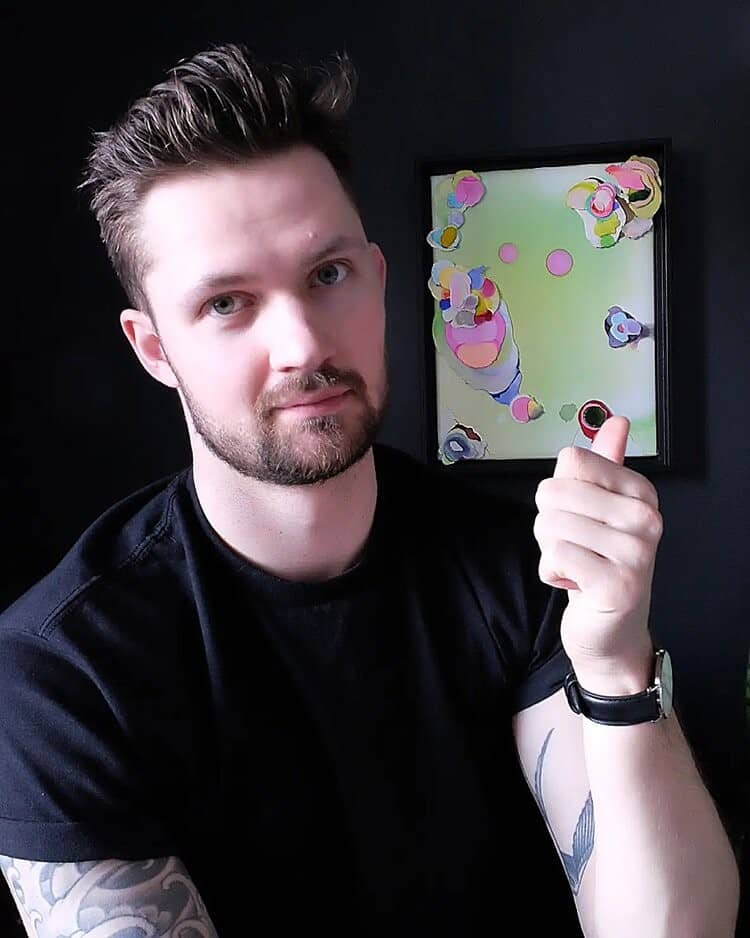 Over the course of his travels, Jordan has always held a deep level of respect for introspection, philosophy and psychology. These are the undercurrents for his process and the foundation of his work.
Jordan's constant movement during this time was in stark contrast to the complete stop of activity that symbolized the pandemic years. The isolation and silence on the campuses was ironically "suffocating" at times and anxiety-inducing as he pursued his writing and art.
While Jordan felt the "space of silence," missing the energetic conversations with fellow artists, he also saw this as a time of dark inner reflection. Jordan had been challenged by his disintegrating mental health over these formative years, culminating in some dark days of self-questioning and confusion. The word building art project he produced during this time was so complex that he became dissociated from the bigger world and, lost in the details, he "mentally imploded."
He found that coming back to Saskatoon, and the slower pace he encountered here, healing. He wanted to explore the "space of silence" and see where it led him and those who encountered his art. Not pushing himself, he listened for the "little moments."
One of these was the moment his girlfriend picked up a tiny red circle and stuck it on a piece of his art. The result was revolutionary: "I started working with other mediums and playing with the concept of space through the art. The collage that was produced as a result contained both expelled energy and detailed work that was a large change from the mainly black and white portfolio I had been working on. I started experimenting with Copik inks and alcohol rubs and the rest is history."
Jordan's work explores his world through the lens of the surrealist – he does not think while he works but allows the creative instinct to flow freely until the piece is "completed" and ready for review. This in turn allows viewers to see the work through their own lens, and allows them to tap into their own self-conscious without the artist defining the work for them.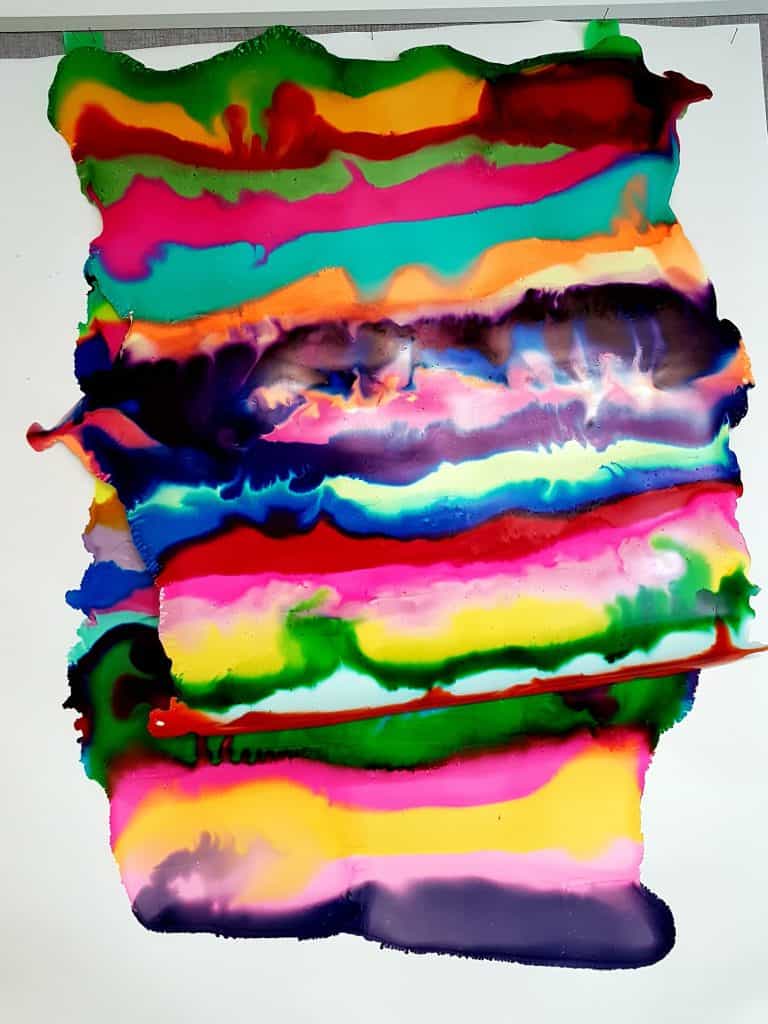 As I was leaving the space that morning, Jordan let me know that he chose to give to CMHA Saskatoon because he knew how important supportive programs and services are to people who need support at times in their lives. As a student, Jordan had made use of different kinds of mental health services to help him along as he walked his path to mental health. He wants to do his bit to ensure that CMHA Saskatoon is here to help others in need.
He also hopes his artwork can serve that person in some way. "I want to know that what I am doing is worth it! I want to make art that allows others the breathing room to come in and discover their own space in silence."
_________________________________________________________________________________
A Bit More about Jordan: Jordan Baraniecki is an award-winning artist based in Saskatoon, SK located on Treaty 6 Territory. His highly detailed, three-dimensional ink collages position the artwork between a telescopic and microscopic lens; situating the viewer with a relationship to scale. By using colour, texture and form as their own visual language, Jordan's interest in the subconscious and psychological observations of the self, encourage the viewer to see what they see within the work. Additionally, his ink collages are the subject matter for his creative projects.
Jordan's creative process is inspired by the Surrealist automatic-working technique, which allows his subconscious to bring forth the compositional choices for each collage. He believes that the process is specifically for the artist, so depending on what's-in-the tank each day, he will either work wildly on the gestural ink marks or sit quietly and meticulously cut out the pieces to collage them together; by doing so, he truly accepts that whatever energy level his has, he can work on one part or another. This balance comes from his personality traits that were specifically examined during his Master's education, and the philosophical idea to balance chaos and order.
Jordan has shown Nationally, Internationally and most recently in the NFT Marketplace. He was included in an exhibition at the Academy of Fine Art in Krakow, Poland. In addition, he has worked with major companies such as Herschel Clothing and the Vancouver Opera for creative projects. Recently he partnered with the 0x Society Gallery in Montreal developing his NFTs. In addition, he is undertaking a year-long artist residency in his hometown at the historic Bunkhouse property through the City of Saskatoon. To find out more, please visit Jordan's website: www.jordanbaraniecki.com